Content

We will award your activity with BEX tokens. We allocated 300.000 BEX tokens to our Content Bounty Program. The program will run from 2 March 2018 until the end of the Public Token Sale. The bounties will be paid within 30 days after the end of the Public Token Sale.
How to participate?
Spread the word about BehaviourExchange with your original content and earn tokens by:
Blogging/Promoting it on other forums, in your Facebook/LinkedIn group/page or any other social outlet with a large outreach
Creating YouTube/Vimeo/Facebook videos (including interviews)
Rewards: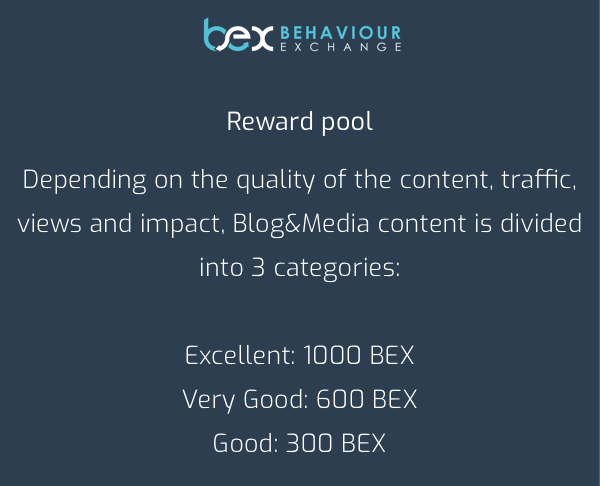 Content Bounty Program Rules:
Joining BehaviourExchange on Telegram: BehaviourExchange.
Articles and Videos must be in English language.
Articles and Videos must represent original work. Copying other's work is not allowed and will result in a disqualification. You can use Official Images, Artworks and other Content posted on our Website.
BehaviourExchange team makes the decision on the quality of the post, and this decision is final.
Low Quality Articles and Videos will not be accepted.
Videos should be more than 1:30 minutes long, shorter than that will not be taken into consideration.
The article / the description of the video has to include two official links:
Official Website (https://ico.behaviour.exchange/?utm_source=bounty&utm_medium=content&utm_campaign=website)
and a link to the Whitepaper: (https://ico.behaviour.exchange/wp-content/uploads/2017/11/BEX_Whitepaper.pdf?utm_source=bounty&utm_medium=content&utm_campaign=whitepaper)
and a link of your own Bitcointalk profile in the bottom of your article or in the comments to prove it is original content.
Article should exceed 650 characters, less than 650 characters will not be accepted.
Medium, Steemit, Reddit and other general/free blogging platforms submissions will be accepted.
If the article is posted on a website, podcast or blog that has quality content, then 1 repost will be accepted. (Examples such as Personal Blogs with Active Users, Cointelegraph, Popular Youtube Channels and so on)
Copying ANN Thread or Bounty Thread is strictly prohibited.
Spam is strictly prohibited. Users found spamming will be immediately and permanently disqualified.
If you receive negative trust while enrolled you will not be paid and you will be removed from the campaign.
Reports of activities (links to posts/videos) should be sent via this form.
Bounty rewards are updated every Friday here.